The UK property sector is dynamic and influenced by changes in consumer legislation. Things are changing which confirms more than ever the need to have a single strong voice that represents the interests of the property industry, which is heard by everyone. Nowadays, consumers are constantly online to exchange information, review and judge the quality of services and products they are planning to buy. The property industry needs to actively manage this opinion forming and decision making process, by continuing the drive for professionalism and by raising awareness of the most respected authority consumers can count on to shape their choices.
Consumers are so inundated with information and messages from countless sources and channels, that being relevant and distinct is at the heart of what brands need to achieve. The National Federation of Property Professionals (NFoPP) and its member organisations have been working to give property professionals a distinct voice and to create a professional industry. Itís member organisations NAEA, ARLA and NAVA have reformed and are now: arla/propertymark, naea/propertymark and nava/propertymark Ė propertymark will use its single, strong voice to create increased awareness and recognition amongst all the relevant audiences. Anyone using an agent displaying the propertymark Protected logo will be confident that the agent is guiding them on their property journey, working to the highest standards, and looking out for them and their money. Here at Vinden Estates we are delighted to come under the umbrellas of naea/propertymark and arla/propertymark.
What does this mean for you?
propertymark

ís focus is on people helping people buy, sell and rent their treasured homes.

propertymark

will help to protect and guide consumers in property transactions.

propertymark

will be the go-to organisation for property professionals.
Members will work to the highest and unified standards.
The first criterion for a consumer in choosing a property professional will be propertymark membership. Therefore please give us a call and request your Free Market Appraisal in the confidence that we are part of propertymark. Telephone 01765 606885 or send us a message via our contact form.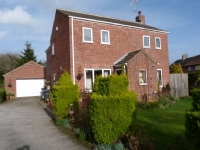 £329,950
4 bedrooms
Under offer